Electromagnetics (EM) is an undergraduate program dealing with electromagnetic fields. An EM field is made of interdependent electric and magnetic fields, which is the case when the fields vary with time – they are dynamic.
An electric field is a force field that acts upon material bodies by virtue of their property of charge. A magnetic field is a force field that acts upon charges in motion. The principle is the same as that of a gravitational field that is a force field which acts upon material bodies by virtue of their property of mass.
EM is all around us. Every time we turn a power switch on, we press a key on our keyboard, or we use an everyday electrical device, EM comes into play. It is the foundation for the technologies of electrical and computer engineering, spanning the entire electromagnetic spectrum, from DC to light waves, from electromechanic technologies to microwaves, antennas and photonics. Therefore, in the context of engineering education, EM is fundamental to the study of electrical and computer engineering.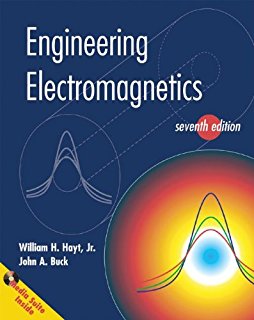 Course Objectives
To acquire the knowledge of Electromagnetic field theory that allows the student to have a solid theoretical foundation to be able in the future to design emission , propagation and reception of electro- magnetic wave system.
To identify , formulate and solve fields and electromagnetic waves propagation problems in a multi- disciplinary frame individually or as a member of a group.
To provide the students with a solid foundation in engineering fundamentals required to solve problems and also to pursue higher studies
Course Outcomes
Ability to solve the problems in different EM fields.
Ability to design a programming to generate EM waves subjected to the conditions
Applications of EM Waves in different domains and to find the time average power density
Ability to Solve Electro Static and Magnetic to Static circuits using Basic relations
Ability to Analyze moving charges on Magnetic fields
Ability to Design circuits using Conductors and Dielectrics
Evaluation:
Final Grades: Your final grade will come from the following sources: class attendance, homework assignments, topic presentation, two midterms, and final exam/project.
Grading:
Attendance: 10%
Assignments: 10%
Website Interactivity 5%
Quizzes: 25%
Final exam: 50%
Course Curriculum
Section 1: Vector Analysis
Vector Analysis

2 weeks

Coordinate Systems

3 weeks

EMF-Tutorial 1

7 days

Section 2: Coulomb's Law
Lecture 3A – Coulombs Law and Field Intensity

7 days

Lecture 3B – Charge Distribution

7 days

Section 3: Electric Flux
Lecture 4: Electric Flux and Gauss Law

2 weeks

To explain the Flux, flux density, and Gauss's Law.
Lecture – 5, EMF

2 weeks
Course Reviews
5 stars

0

4 stars

0

3 stars

0

2 stars

0

1 stars

0
No Reviews found for this course.