lectureAbout this course
This degree program is designed to provide students with a comprehensive knowledge about internet architecture, layers and backbone. It also provide deep concepts about internet access technologies and protocols. In the LAB, this course provides a background in the web design and development needed to develop static and dynamic websites using the Internet and the World Wide Web. Students will acquire knowledge of basic programming, Web construction, interactive Web sites and Internet Scripts.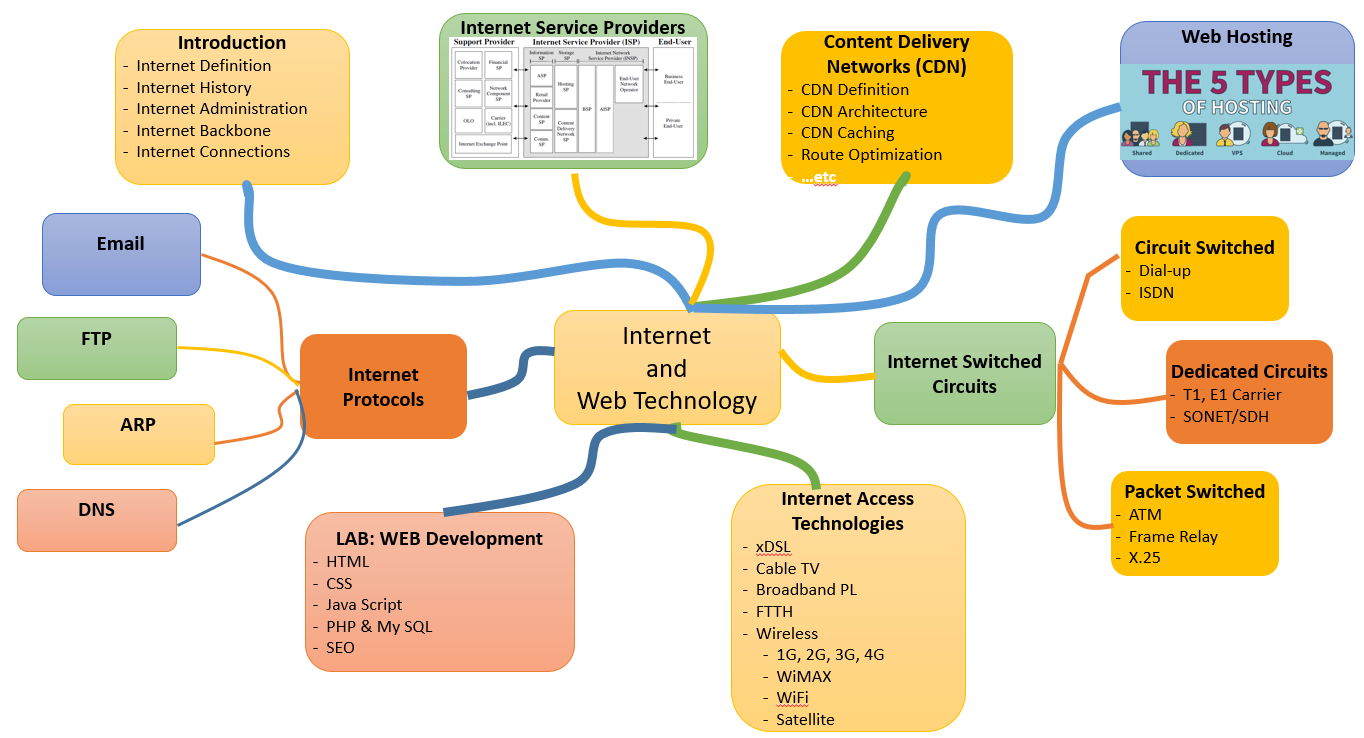 Objectives
To enable students to learn how the internet works, and to know its entire structure.
To make them familiar with all internet access technologies and protocols.
To build strong fundamental knowledge amongst students to pursue higher education and continue professional development in web design and programming.
To expose the students with a multidisciplinary web development techniques in order to prepare them for diverse and competitive career paths.
To improve the ability of students to design and implement different types of static pages using HTML and cascade style sheet (CSS).
To enable students to learn some client-based scripting languages such as Java-script.
To enable students to design a fully-dynamic and interactive websites using PHP & My-SQL.
Course Hours:
Classroom: 2 hrs
LAB            : 2 hrs
Course Description:
Internet architecture, Internet protocols, ARP, ICMP, IP, TCP, UDP,  DNS, Remote Access, Vsat, E-mail, FTP (File Transfer Protocols), Web servers and Web browsers, Web site development, HTML, ASP, PHP, Java script, Java applets, Internet and computer security.
Required Texts
TCP/IP Protocol Suite, 4/e,

Behrouz Forouzan.

Programming the World Wide Web (8th Edition), by

Robert W. Sebesta.
Evaluation:
Final Grades: Your final grade will come from the following sources: class attendance, homework assignments, topic presentation, two midterms, and final exam/project.
Grading:
Attendance: 5%
Assignments: 5%
Quizzes: 20%
LAB: 10%
Final exam: 60%
Course Curriculum
Section 1: Introduction
Internet Backbone

FREE

7 days

This unit explains the entire layers of internet.
Internet Service Providers

7 days

This unit explains in details the types of internet service providers (ISPs).
Section 2: Hosting
Web Hosting

7 days

This unit explains the web hosting types in details.
Content Delivery Network

2 weeks

To provide some technical details about CDN.
IT-QZ-1

00:10:00

Section 3: Data Communication
Circuit-Switched Networks

2 weeks

Lecture 6: Dedicated Circuits

2 weeks

Lecture 7: Packet Switched Circuits

2 weeks

Section 4: Internet Access Technologies
Lecture 8: Internet Access Technologies

2 weeks

To explain the broadband technologies.
Section 5: Internet Related Protocols
Lecture 9: ARP

7 days

This Lecture to explain in details the ARP.
Lecture 10: DNS

2 weeks

To explain the Domain Name System in details.
Lecture 11: Email

7 days

To explain E-mail protocols
Course Reviews
5 stars

5

4 stars

0

3 stars

0

2 stars

0

1 stars

0